Name: Ajiet
No. of characters: 5
Gender: Boy
Origin: Sanskrit
Used in: Hindi
How to pronounce Ajiet
a-jiet
What does my name mean?
The baby boy name Ajiet has origin in Sanskrit language commonly used in Hindi and prevalent among Hindu. Ajiet means Black, Unconquerable, Victorious, Invincible, Variation of Ajit, Of the Adriatic, Dark.
Variants
Forms: Ajeat, Ajith Spelling variants: Ajyt, Ajeet, Ajeit More baby names that came from Ajay: Ajit (American Sanskrit), Ajaye, Ajee, AJ, Aj (American), Ajai, Ajae (English-American)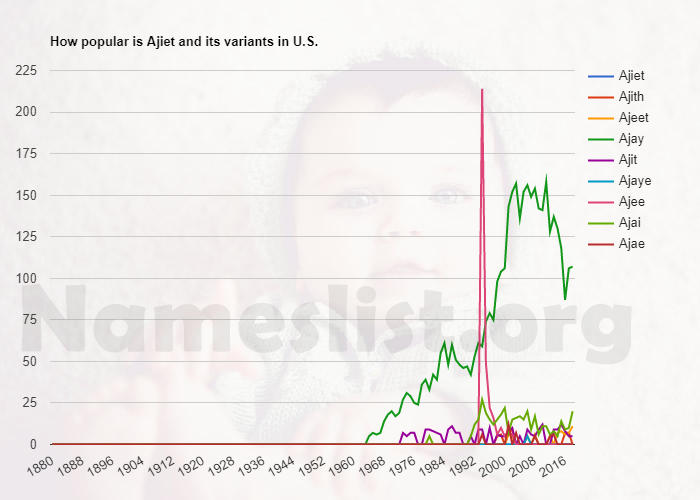 Frequency of baby name Ajiet in different countries
Countries
Men
First Name
Men
Secondary Name
Women
First Name
Women
Secondary Name
[1]
5
0
0
0
[1] Name count till 2014
Names that rhyme with Ajiet
Famous people named Ajiet
Names like Ajiet
Related Names:
Aeldiet
Ailhiet
Ailiet
Aji
Ajia
Ajiah
Ajiana
Ajianna
Ajiaq
Ajiaĸ
Ajib
Ajiba
Ajiet
Ajigarta
Ajij
Ajija
Ajijan
Ajikutooq
Ajikutôĸ
Ajilesh
Updated on: July 4th, 2019
Get the meaning of Ajiet, all baby names list, Know what does Ajiet means in english, what is the meaning of name Ajiet?
This website serves as the extended english baby names book which will help in naming your child.
Share your opinion on Ajiet