Name: Aryela
No. of characters: 6
Gender: Girl
Origin: Hebrew
Used in:
How to pronounce Aryela
a-rye-la
What does my name mean?
The baby girl name Aryela has it"s roots in Hebrew language. Meaning of Aryela is Eager, Eager Industrious, From the Hare's Dell, Another form of Ariela, Hebrew origin, feminine form (meaning: Lion of God, God's hero)..
You would love these names similar to Aryela: New Aryaa is used in Marathi, Tamil and Malayalam that means "Goddess Parvati, Noble or Honored" used for both boys and girls. The name is quite Renowned in India. Gloriela is originated from Latin language, Gloriela is form of Gloria given to girls with same suffix -ela. Sabryele is derivative of Sabriel is a baby girl name. It is rooted from English-American. Henrik came from Germanic and Old High German used as a boy name. It means "Ruler of the Home, Ruler of an Enclosure or Homeland" which happens to be the name of Sociologist Henrik. Name is celebrated on July 13th. In 1987, famous Henrik ranked 24 in baby boy names list in Denmark while Baby girl name Tanjanika is creative and adventurous name.
Variants
Forms: Ariel Derivatives: Aire (Hebrew English), Airel Spelling variants: Arriel, Aeryal, Aireal, Arial, Arieal, Ariellah, Aeriel, Airial, Aryell, Aríella, Aríel , Ariella, Aeriell, Ariyel, Aryel, Aryella, Ariell, Arriell, Ahriel Female variants: Aeriela Diminutive and pet forms: Arie Other variants: Arielle, Ariale, Ariya, Areille, Aryelle, Aerial, Aryl, Ariele, Ariela, Arrielle, Aeriale, Arel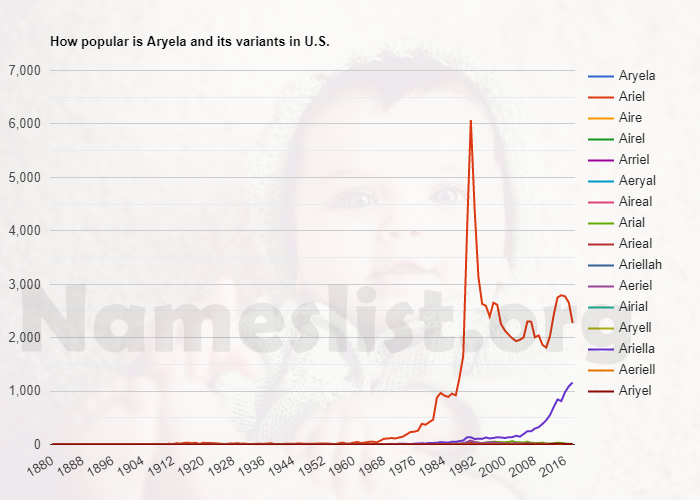 Names that rhyme with Aryela
Famous people named Aryela
Names like Aryela
Related Names:
Abyela
Anyela
Arye
Aryeh
Aryel
Aryela
Aryell
Aryella
Aryelle
Aryen
Aryendra
Aryes
Aryet
Ayela
Danyela
Gabryela
Ghalyela
Jayela
Joyela
Kayela
Share your opinion on Aryela