Name: Audreah
No. of characters: 7
Gender: Girl
Origin: Old English
Used in:
How to pronounce Audreah
au-dreah
What does my name mean?
The baby girl name Audreah has origin in Old English language. Audreah means Another form of Audrey, Noble Strength.
Do you like Audreah? You would love these names: Audoric came from German language which means "Mighty or Richness or King" with same prefix Aud- celebrated on January 14th. Baby girl name Alyxandrea, Alyxandrea is variant form of Alixandrea has its origin in Old Greek. Janaesha is anomalous name bestowed upon girls. Baby girl name Armaneah which of Persian origin. Armaneah is variant form of Armani while Of African-Swahili and Swahili origin, Nyah. Its meaning is "Purpose or Aim" given to both boys and girls Musical Artist Nyah is a notable namesake. Renowned in United States and USA. On the list of baby girl names, widely accepted Nyah reached 504th position in 2001.
Variants
Cognates: Audry Forms: Autri Derivatives: Audrielle, Audrianna, Autrey, Audrene, Audreanna, Autrea, Audrienna, Audelina, Audrienne, Audris (Old English German), Auda (German Old English), Audreen, Audelia Spelling variants: Autry, Autree, Audre (English), Audri, Audrie, Audree, Autrie Other variants: Audrin, Audrius, Audreanne, Audene, Audfis (German), Audrea, Audreana, Audria, Audrisya, Audrye, Audrianne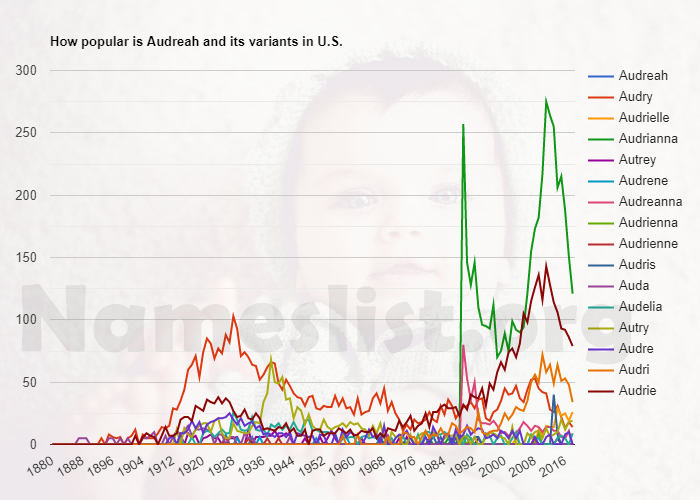 Names that rhyme with Audreah
Famous people named Audreah
Names like Audreah
Related Names:
Adishreah
Adyshreah
Alaureah
Amareah
Andreah
Apreah
Ashaureah
Aubreah
Audr
Audra
Audrae
Audrah
Audrain
Audran
Audranna
Audray
Audre
Audrea
Audreah
Audreana
Share your opinion on Audreah