Name: Audrew
No. of characters: 6
Gender: Boy
Used in:
How to pronounce Audrew
au-drew
What does my name mean?
The baby boy name Audrew. Meaning of Audrew is Brave, Man, Masculine, In the Bible the First of the Twelve Apostles Chosen, Warrior, Derivative of Andrew, Manly and Strong, Manly, The Manly.
Do you like Audrew? Other names you would love: The gender insensitive name Trew, Trew is form of True has its roots in English with similar -rew suffix. Not many Contemporary parents may find the name Deniyah appealing aimed at girls while Meaning of Baptiste is Immerse or The Baptist has its roots in Old Greek given to baby boys. Famed in Belgium, Switzerland and France. On baby boy chart, famous Baptiste managed to reach 121 in year 1998 in Belgium. Unisex name Audre has its origin in English language. It means "Noble Strength". Andreka is a resultant of Andrea used as a baby girl name and is rooted from Old Greek.
Variants
Cognates: Andréa (Portuguese) Forms: Andrija, Andrey Derivatives: Andriel, Andino, Adem (Hebrew Old Greek), Andros, Tandy, Andry, Andrja, Andonis (Old Greek Latin), Dries, Evagelos, Andrae, Andrzej, Analu, Antruska, Andrejs, Anterus, Andor, Andrian (Latin Old Greek), Antal, Andrews, Tandalaya, Dela, Ondrej, Tandis, Antero Spelling variants: Tandie, Andieno, Tandey, Tandi, Tandea, Andeeno, Andreu, Tandye, Tandee, Andy Female variants: Endrine, Andora, Endrike Diminutive and pet forms: Ando, Andie, Dand, Drue Other variants: Chayne, Tanda (English), Andri, Andrus (Estonian), Crysta, Andonia, Andrius, Andriy, Andris, Andru, Andrue, Tandya, Kendrew, Andro, Anaru, Andi, Tandia, Brina, Nesho, Andra, Jedrek, Owain, Andrik, Aindrea, Andruw, Dandy, Necho, Endre (Old Greek and Old Norse), Tandra Combinations: Léandra (Latin)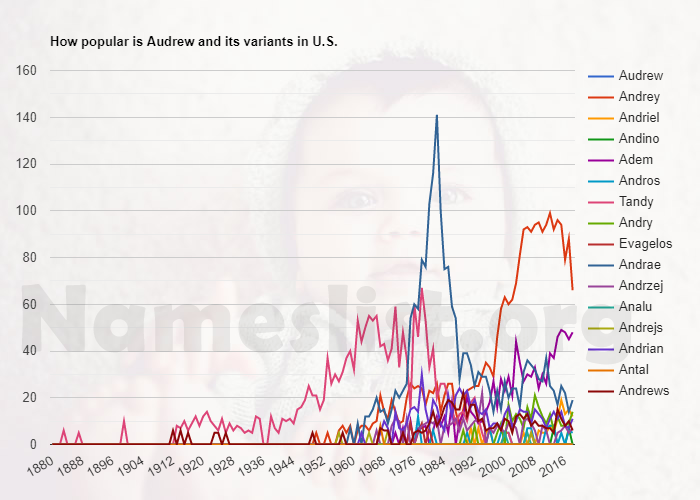 Names that rhyme with Audrew
Famous people named Audrew
Names like Audrew
Related Names:
Abdrew
Adrew
Alexandrew
Amdrew
Andrew
Audr
Audra
Audrae
Audrah
Audrain
Audran
Audranna
Audray
Audre
Audrea
Audreah
Audreana
Audreanna
Audreanne
Audreauna
Share your opinion on Audrew