Name: Audrew
No. of characters: 6
Gender: Boy
Used in:
How to pronounce Audrew
au-drew
What does my name mean?
The baby boy name Audrew. Meaning of Audrew is Brave, Man, Masculine, In the Bible the First of the Twelve Apostles Chosen, Warrior, Derivative of Andrew, Manly and Strong, Manly, The Manly.
Variants
Cognates: Andréa (Portuguese) Forms: Andrija, Andrey Derivatives: Andriel, Andino, Adem (Hebrew Old Greek), Andros, Tandy, Andry, Andrja, Andonis (Old Greek Latin), Dries, Evagelos, Andrae, Andrzej, Analu, Antruska, Andrejs, Anterus, Andor, Andrian (Latin Old Greek), Antal, Andrews, Tandalaya, Dela, Ondrej, Tandis, Antero Spelling variants: Tandie, Andieno, Tandey, Tandi, Tandea, Andeeno, Andreu, Tandye, Tandee, Andy Female variants: Endrine, Andora, Endrike Diminutive and pet forms: Ando, Andie, Dand, Drue Other variants: Chayne, Tanda (English), Andri, Andrus (Estonian), Crysta, Andonia, Andrius, Andriy, Andris, Andru, Andrue, Tandya, Kendrew, Andro, Anaru, Andi, Tandia, Brina, Nesho, Andra, Jedrek, Owain, Andrik, Aindrea, Andruw, Dandy, Necho, Endre (Old Greek and Old Norse), Tandra Combinations: Léandra (Latin)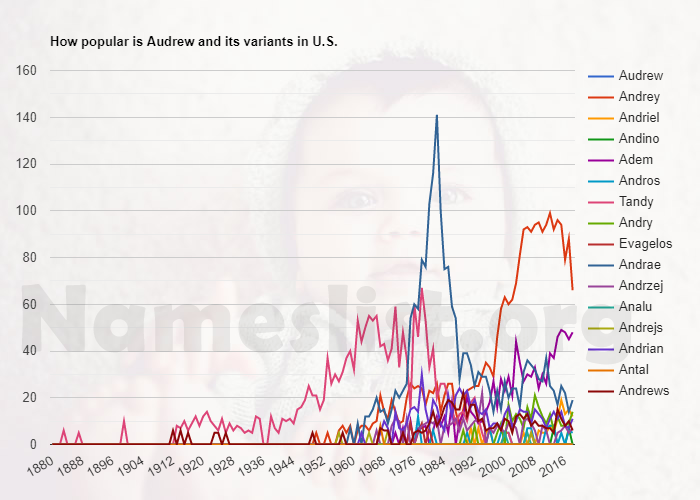 Names that rhyme with Audrew
Famous people named Audrew
Names like Audrew
Related Names:
Abdrew
Adrew
Alexandrew
Amdrew
Andrew
Audr
Audra
Audrae
Audrah
Audrain
Audran
Audranna
Audray
Audre
Audrea
Audreah
Audreana
Audreanna
Audreanne
Audreauna
Get the meaning of Audrew, all baby names list, Know what does Audrew means in english, what is the meaning of name Audrew?
This website serves as the extended english baby names book which will help in naming your child.
Share your opinion on Audrew