Name: Conee
No. of characters: 5
Gender: Girl
Origin: Latin, Latin, Spanish
Used in:
How to pronounce Conee
co-nee
What does my name mean?
The baby girl name Conee has origin in Latin, Latin, Spanish language. Conee means Brave Counsel, Steadfastness, To be Knowledgeable, Another form of Connie, Conny also common as a boys name., Pet form of Cornelia (meaning similar to a Roman gender name), Form of Constance, English pet form of Constance (meaning: the constant).
Variants
Spelling variants: Conie, Conni , Konnie (Spanish Latin), Konny, Connee (Latin and Spanish), Cony (Latin, Spanish), Coney (Latin Latin and Spanish), Conney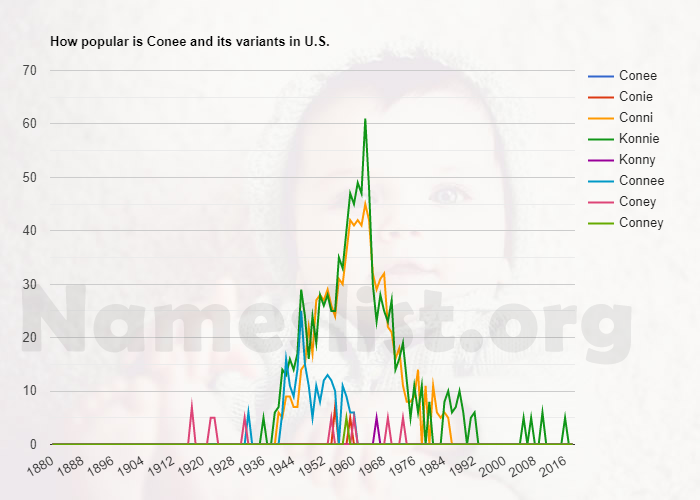 Names that rhyme with Conee
Famous people named Conee
Names like Conee
Related Names:
Aamanee
Aaranee
Abenee
Abhimaaninee
Abhimanee
Abonee
Abrionée
Achiyainee
Addnee
Aganee
Ainee
Aiyshanee
Aiythanee
Ajanee
Ajournee
Alanee
Albanee
Aleshanee
Amanee
Amirtharshinee
Get the meaning of Conee, all baby names list, Know what does Conee means in english, what is the meaning of name Conee?
This website serves as the extended english baby names book which will help in naming your child.
Share your opinion on Conee