Name: Daw
No. of characters: 3
Gender: Boy
Origin: Medieval English
Used in: Medieval English
How to pronounce Daw
daw
What does my name mean?
The baby boy name Daw has it"s roots in Medieval English language commonly used in Medieval English. The meaning of Daw is still unknown.. We were unable to find the meaning of Daw.
Variants
Forms: Dawsyn Derivatives: Dayson, Dawes Spelling variants: Dawsun Other variants: Dawe, Graziella, Dawsan, Dawsen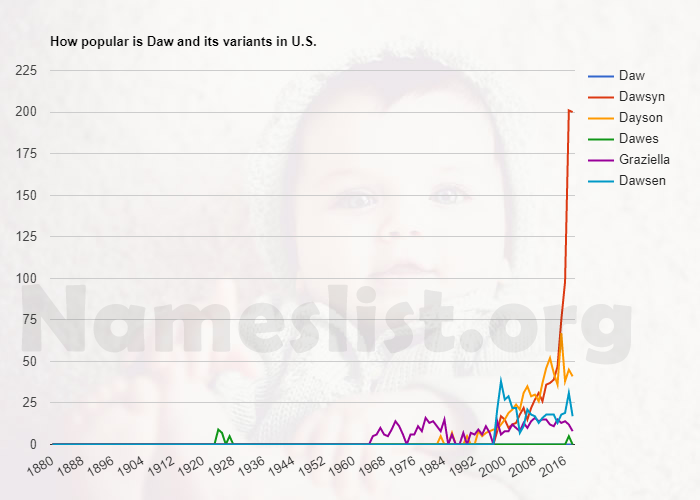 Frequency of baby name Daw in different countries
Countries
Men
First Name
Men
Secondary Name
Women
First Name
Women
Secondary Name
[1]
0
5
0
0
[2]
0
3
0
3
[3]
0
3
0
3
[4]
0
N.A.
1
N.A.
[1] Name count till 2014
[2] Baby name stats up to 31 December, 2018
[3] Current name holders as on 31 December, 2018
[4] Baby name stats up to 31 December, 2018
Names that rhyme with Daw
Famous people named Daw
Daw Mya, Kyaw Thu's mother
Daw Ohn Kywe, Kyi Kyi Htay's mother
Daw Than Than Sint, Actor
Names like Daw
Related Names:
Daw
Dawa
Dawadi
Dawain
Dawan
Dawana
Dawanda
Dawane
Dawann
Dawanna
Dawar
Dawarr
Dawaun
Dawayne
Dawe
Dawes
Dawha
Dawia
Dawid
Dawin
Updated on: July 4th, 2019
Get the meaning of Daw, all baby names list, Know what does Daw means in english, what is the meaning of name Daw?
This website serves as the extended english baby names book which will help in naming your child.
Share your opinion on Daw