Name: Derbi
No. of characters: 5
Gender: Boy
Origin: Old Norse
Used in:
How to pronounce Derbi
de-rbi
What does my name mean?
The baby boy name Derbi has origin in Old Norse language. Derbi means Park with Deer, Freeman, Deer Town, Derivative of Darby.
Other names liked by would be parents that are similar to Derbi: The girl name Antionetta that is atypical name while Gender insensitive name Grayson has its roots in Old English which means "Son of Grave, Son of Grave Son of the Steward or Son of the Gray-haired Man". The name is Popular in New Zealand and Scotland. In 2017, widely accepted Grayson was the 34th most popular name on baby boy names chart. Exuperien has its origin in Latin that means "Surpass" celebrated on May 2. Germanic name Hubi aimed at baby boys. Hubi is version of Hubert with similar -bi suffix. The boy name Denes, Denes is a variant of Dennis, came from Old Greek Author Denes is noteworthy namesake.
Variants
Derivatives: Diarmaid (Old Norse Celtic), Derbe Spelling variants: Darrby, Diarmuid , Darbie, Darbye, Darbi, Darrbie Other variants: Darrbey, Derbie, Darre, Darbe, Derbey, Darbey, Derby, Darb, Darbea, Darbee, Darbeah, Derbee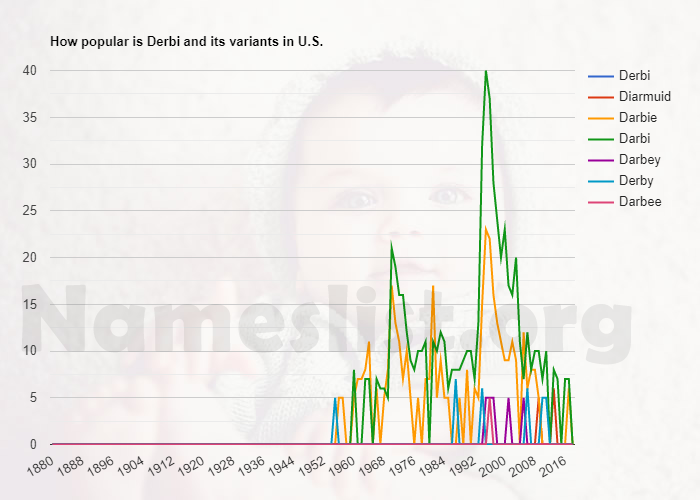 Names that rhyme with Derbi
Famous people named Derbi
Names like Derbi
Related Names:
Arbi
Barbi
Corbi
Darbi
Der
Dera
Derak
Deral
Derald
Deralyn
Deran
Deray
Derba
Derbe
Derbee
Derbey
Derbi
Derbie
Derby
Derck
Share your opinion on Derbi