Name: Katenka
No. of characters: 7
Gender: Girl
Origin: Russian
Used in: Russian
How to pronounce Katenka
ka-te-nka
What does my name mean?
The baby girl name Katenka has origin in Russian language commonly used in Russian. We were unable to find the meaning of Katenka.
Do you like Katenka? Other names you would love: Gender-neutral name Katelyn. It means "Pure or From Katherine or Lynn" which of Old Greek origin Actress Katelyn is a notable namesake. Name is celebrated on 25th of November or the 29th of April. Famed name Katelyn elevated to 54th position on baby girl chart in 2000. Ladinka meaning "Domination or Glory" used principally in Slavic with same -nka suffix. Baby girl name Kätilvi dominantly used in Swedish and Old Swedish. Kätilvi is Swedish equivalent of Kætilví while mothers may find the anomalous Sharmilla interesting and is rooted from Sanskrit is a baby girl name. Krystena is version of Kristena and rooted from Latin language given to baby girls. Preeminent in United States.
Variants
Cognates: Katica, Katsiaryna, Katrín (Icelandic) Forms: Katyenka, Kathelyn, Cataina, Cathrina, Caitrin, Cathlene, Kathy, Katina, Kattie, Catie, Catricia, Kateryna, Katrina, Ekaterine , Kaysa, Kathlynn, Trinette (Old Greek Sanskrit), Katanyna, Catarena, Katreen, Kathileen, Caterina, Kitty, Caitriona, Marykate, Kaitlan, Kathi Derivatives: Chaterine, Cathrin, Cathinca, Kayiyn, Catlaina, Katria, Kaisukka, Kathlene, Kolene (Celtic Old Greek), Katarzyna, Caterine, Katalin, Kittie, Kaferine, Cathee, Citty, Catheline, Chatharina, Káhtariinná, Katle, Kiska (Old Greek Russian), Catharin, Kahtarina, Gáhteriinná, Katrin, Jekaterina, Ekatarina, Nienke, Trinchen, Katilyn, Katchen, Chatriona, Kakalina, Cathryne, Kaitlyne, Katrien, Katharina, Koleyna (Old Greek Australian), Katrine, Kajsa, Katherina, Caisa, Caterin, Ekaterina, Katouska, Kayce, Katuska, Cathalin, Kaytlen, Katriana, Yekaterina, Kajsen, Kotinka, Anne-Catherine (American), Katerina, Kaisuli, Kathann, Katiya, Cathryn, Catrin, Kajetana, Kathe, Katorzyna, Katlynn, Kolina, Cathline, Cathelin, Katen, Katalyn, Katika, Catrice, Ecaterina, Katlin, Katus, Catrine, Katre, Cataline, Catreena, Koline, Kolena, Chatinca, Katarin Spelling variants: Kait, Cate, Catarin, Kethryn, Cathrine, Katerína, Katrína, Catinca, Catharyne, Kittý, Kathrynn, Catherine, Kathreen, Catherin, Cait, Catharina, Kathrynne, Kattrina, Kayt, Jekateriina, Katiina, Catheryn, Katheryne, Kathryn, Katinca, Catherina, Katryn, Catryn, Katherin, Kattrine, Katriona, Kathryne, Kattrin, Kaite, Katheryn Female variants: Katalina Male variants: Ka, Katarinus Diminutive and pet forms: Tinka, Katha, Katitia, Catriona, Katine, Kat, Kathern, Ketya, Cath, Katinka, Katia, Katri (Old Greek Hebrew,), Kati, Catha, Kaisa, Katje, Kaitey, Caty, Kaity, Kate, Cathi Other variants: Kathanne, Katheren, Kajs, Katrice, Kaisu, Katakin, Cathaline, Catrina, Katarina, Kotryna, Katla, Kathline, Chathrine, Katrijn, Kitti (Greek), Jekatarina, Cateline, Kateline, Katrikki, Katiuska, Cathlyn, Cathern, Katharyn, Catarina, Kathie, Katrya, Catrika, Catina, Kasin, Katerin, Caitria, Kathyrine, Katoushka, Cathaleen, Catia, Kathalin, Catheria, Katjuska, Kátarîna, Kathrin, Kathleena, Cathina, Kathrina, Kateri, Kathinka, Kaethe, Catreeka, Katarine, Kathlee, Kaisi, Katiana, Kitlyn, Katyuska, Catharyn, Katerine, Kattarina, Katryna, Katell, Catharine, Kadri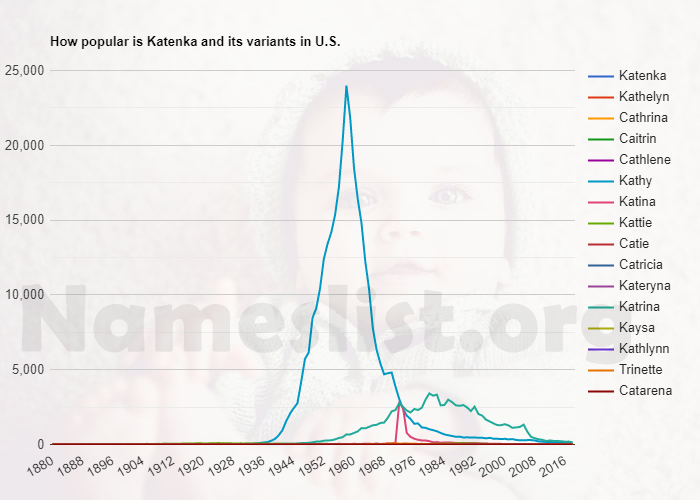 Frequency of baby name Katenka in different countries
Countries
Men
First Name
Men
Secondary Name
Women
First Name
Women
Secondary Name
[1]
5
0
0
0
[1] Name count till 2014
Names that rhyme with Katenka
Famous people named Katenka
Names like Katenka
Related Names:
Alenka
Benka
Boryenka
Denka
Elenka
Enka
Genka
Helenka
Henka
Irenka
Jagienka
Jelenka
Jenka
Kasienka
Kate
Kateama
Kateara
Kateb
Katedra
Katee
Updated on: July 12th, 2019
Share your opinion on Katenka