Name: Tetty
No. of characters: 5
Gender: Girl
Origin: English (Archaic)
Used in: English (Archaic)
How to pronounce Tetty
te-tty
What does my name mean?
The baby girl name Tetty has origin in English (Archaic) language commonly used in English (Archaic). We were unable to find the meaning of Tetty.
Variants
Cognates: Betty, Elísabet (Icelandic), Angeletta Forms: Liisa, Bettine (Hebrew Latin), Bizzy, Lilibeth, Leasa, Bethy, Lisl, Elizbeth, Avril, Avryl (English French), Forrest, Ellissa (Germanic and Hebrew), Elizaveta, Angilia, Andjelka, Lilibet, Betta, Lizaveta, Libbie, Ysabel, Liliane, Chavelle, Eliska, Elizabet, Elzabeth, Elsabeth Derivatives: Erzsok, Bessy, Lusa, Andela, Jelisaveta, Eilish, Alzbeta, Anniela, Anjie, Angeli (Old Greek Sanskrit), Elizabetta, Angie, Elikapeka, Elisheva, Elisapetti, Ealisaid, Elizabel, Aingeal (Old Greek), Betje, Elsebet, Elsbet, Bettyjean, Angelita, Angila, Elisabetha, Lissette, Lyzette, Elise (German Hebrew), Lysbeth, Lison, Bitsy (American Hebrew), Liisi, Anjelita, Anielka, Liesje, Elisabith, Angela, Ilsebet, Angeles, Foster, Ilisipat, Elisavetha, Anakela, Elyza, Bettylou, Lillian, Leizel, Angle, Elizabeta, Lisenka, Elisveta, Elisabete, Elliisapetty, Angelia, Elzbieta, Gotzone, Eleisa, Bessi, Lizveth Spelling variants: Forest (Old French), Liesel, Elizebeth, Bety, Elisif, Angella, Forrestt, Alizabeth, Ellizabeth, Bettey, Angelisa (Old Greek Latin), Elyzabeth, Beti (Gypsy), Bettee, Betti , Bessie, Alyzabeth, Elsbett, Deangela, Angla, Elisaweta, Bettye, Anjela, Lisabeta, Angèla, Engela Diminutive and pet forms: Angelette, Ellisa, Elo, Liesl, Bess, Izabel, Anji, Lizy, Veta, Erzsi, Angi, Liska, Leisa, Elisah, Bit, Lizbet, Elize, Lizabeta, Lizzy, Betina, Lisbett, Lisabet, Bethie, Lizbett, Ilsa, Jelva, Libby, Betsy (English Swiss), Elka, Angeline, Angelien, Eilis, Leisel, Yzabel, Beta, Yza, Lizeth, Lisel, Ellyza Other variants: Elizabete, Angelin, Ellesef, Libbi, Tangela, Elisabet, Ealasaid, Anzhela, Lizell, Lisabetta, Elysabeth, Betteah, Elisabeth, Andjela, Elisabeta, Ellisif, Liezel, Elisabetta, Angelee, Elisabethe, Lizel, Forrester, Angelynn, Lizzi, Aniela (Old Greek and Hebrew), Elzira, Anglea, Angelie, Angyal, Elisaveta, Elixabete, Bitzi (American), Betsea, Elisheba, Elsee, Elizabith, Eliisabet, Andjelija, Elisavet, Lijsbeth, Ellota, Angelea, Ongela, Angyalka, Gela, Forster, Lizl, Libbe, Bettea, Eliabeth, Anjelika (Old Greek and Latin), Bett, Liezl Combinations: Mariangela (Italian)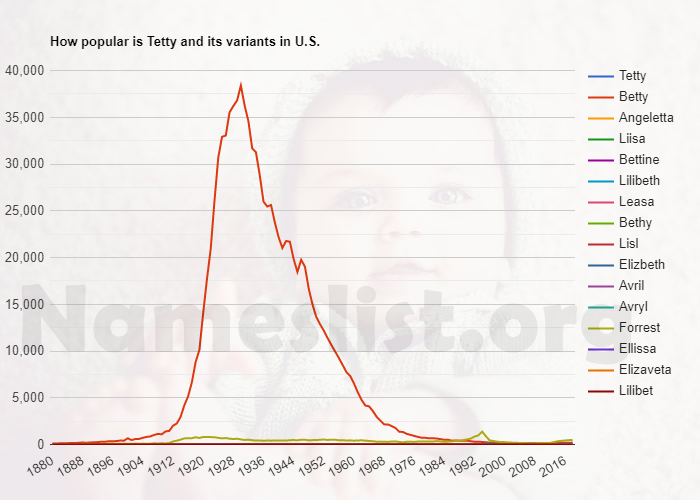 Frequency of baby name Tetty in different countries
Countries
Men
First Name
Men
Secondary Name
Women
First Name
Women
Secondary Name
[1]
10
9
0
0
[2]
10
N.A.
1
N.A.
[1] Name count till 2014
[2] Baby name stats up to 31 December, 2018
Names that rhyme with Tetty
Famous people named Tetty
Names like Tetty
Related Names:
Arletty
Arrietty
Atty
Beatty
Betty
Catty
Charlotty
Chasitty
Chassitty
Chetty
Citty
Cotty
Ditty
Dotty
Elliisapetty
Etty
Gatty
Getty
Gitty
Goretty
Updated on: July 12th, 2019
Get the meaning of Tetty, all baby names list, Know what does Tetty means in english, what is the meaning of name Tetty?
This website serves as the extended english baby names book which will help in naming your child.
Share your opinion on Tetty